Jianbing (煎饼) is probably the most iconic Chinese street food. Although its home province is Shandong, you can see it in breakfast stalls all around the country. According to historical records, Shandong people started to use griddle to make pancakes in the Wanli period of the Ming Dynasty. Millet, corn, wheat, sorghum, sweet potatoes, soybeans, buckwheat …… any grain grounded into powder would do. Add water to the mixed grain flour and you are ready to fry!
Since various forms of pancakes are quite widespread across different cultures, making them is not hard. However, Chinese cuisine has its own twists on this popular dish. It usually involves various kinds of meat (especially ham), sauces and vegetables, particularly leek and scallion. As you will see, some of the Chinese jianbings can be really fancy. Let us introduce you to some of the best jianbing recipes:
Basic jianbing with ham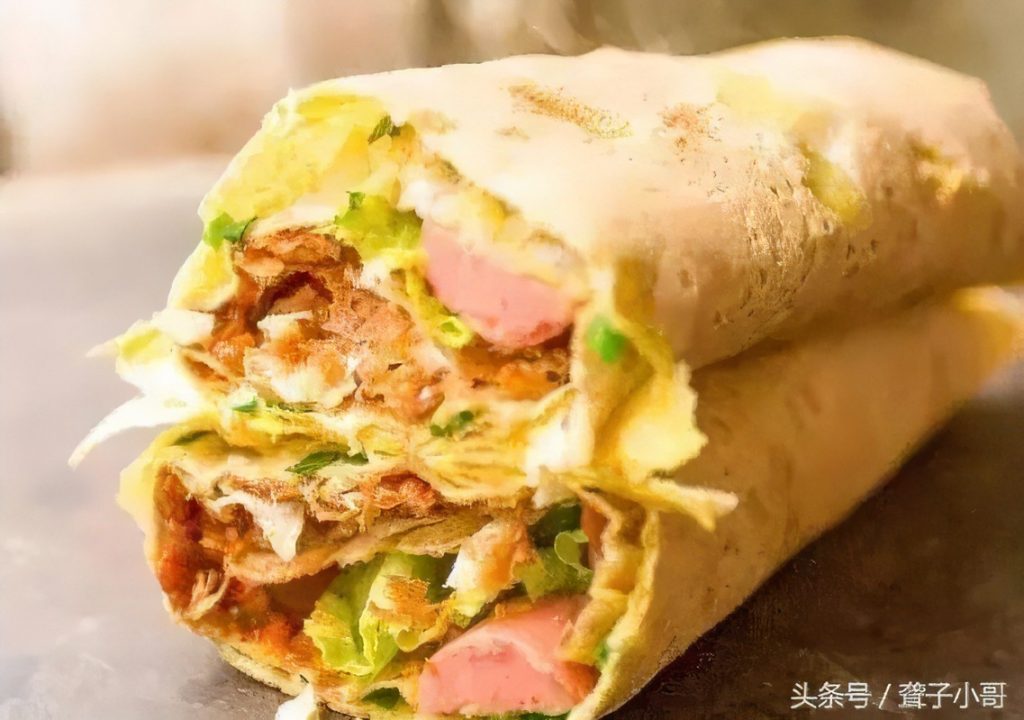 Ingredients: flour, water, eggs, black sesame seeds, lettuce, green onions, ham sausage, spicy bean paste.
Method:
Step 1: Prepare the batter: fill a half of a 4.5-inch bowl with water and add 5 tablespoons of flour. Add more water or flour if necessary, just don't make it too thick.
Step 2: Fry the pancakes. Place the pan over low heat and when it gets warm, sprinkle a few drops of oil. Pour the batter on and spread it evenly on the pan by rotating it, so that the batter unfolds as evenly as possible into a circle. When the batter is formed, beat a clay egg on top of the batter and sprinkle in black sesame seeds, or small green onions if you like.
Step 3: Flip it over and brush with appropriate amount of spice bean paste.
Step 4: Place lettuce and ham on the top and wrap it. Enjoy your meal!
2. Tianjin's jianbing with deep friend crisps and sweet sauce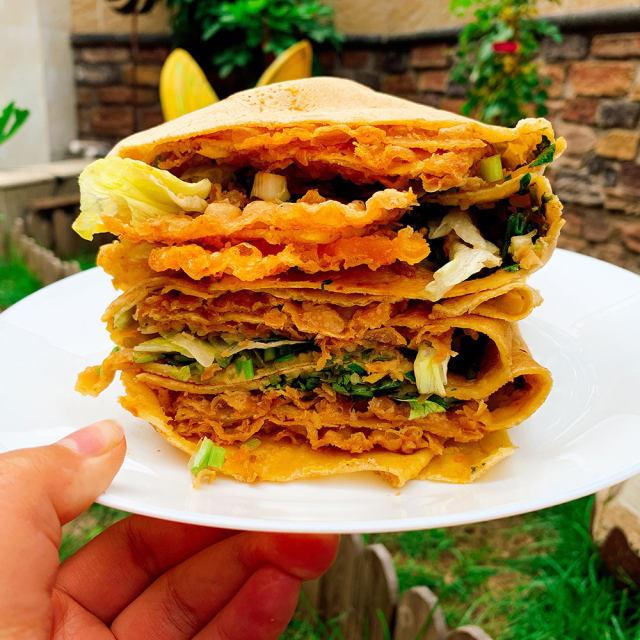 Ingredients: mung bean noodles, flour, water, egg, chopped green onion, black sesame seeds, lettuce, salt, cooking oil, soybean paste, Tianmian sauce, garlic chili sauce, onion, garlic, ketchup, sugar.
Method:
Step 1: Make the sauce: use a large bowl to mix all the sauces. If you like sweet sauces, you can use sprite and cola to dilute it, if not, use water.
Step 2: Fry onion and garlic together. Change the heat to low, pour in the sauce and stir-fry evenly.
Step 3: Next, let's put the sauce aside and make the crisps: place the flour into a bowl (around a cup per person). Dig a small hole in the middle and slowly add water while stirring the flour into a flocculent shape with chopsticks, then add a pinch of salt and 2 spoons of oil, and make a hard dough (water should be added slowly, so as not to make the dough too soft).
Step 4: Knead the dough and divide it into small balls; roll them evenly into a round dumpling skin. Make sure they are thin.
Step 5: Once they are all rolled out, you can deep fry the crisps. After one side is colored, flip it over and continue until both sides are evenly fried.
Step 6: To make the pancakes, first make the pancake batter: use two types of flour here, mung bean flour and all-purpose flour (3:2 or 2:1 is fine). Prepare the pancakes as according to the first recipe.
Step 7: While frying, add the egg on the top of the pancake and spread it evenly. Add sesame seeds.
Step 8: Turn the pancake and spread the sweet sauce on the top, then sprinkle with chopped green onion and coriander.
Step 9: Put a slice or two of cleaned and drained lettuce on top alongside the fried crisps. Roll up while hot with a spatula. Enjoy with a rice porridge!
3. Leek jianbing wrap with seafood
Ingredients: fresh leek, egg, flour (100g), shrimps (preferred amount), sesame oil, cooking oil, salt.
Method:
Step 1: Wash and dry the leeks, dice them, add some vegetable oil and mix gently.
Step 2: Prepare the pancakes as according to the first recipe.
Step 3: Beat the eggs and scramble them in a pan, then cool and chop them into dice.
Step 4: Place the eggs aside and clean the pan. Fry the shrimps on cooking oil.
Step 5: Mix the fried shrimps, diced scrambled eggs and leek and wait for them to cool a bit. Add some salt and sesame oil.
Step 6: Spread out the pancake and scoop a large spoonful of filling in the middle of it. Then fold the pancake and brush the egg on the part with the edges to make sure it sticks to one another.
Step 7: Add oil to the pan and fry the pancake slowly over low heat. Once the one side is browned, flip and fry the other.
4. Sausage jianbing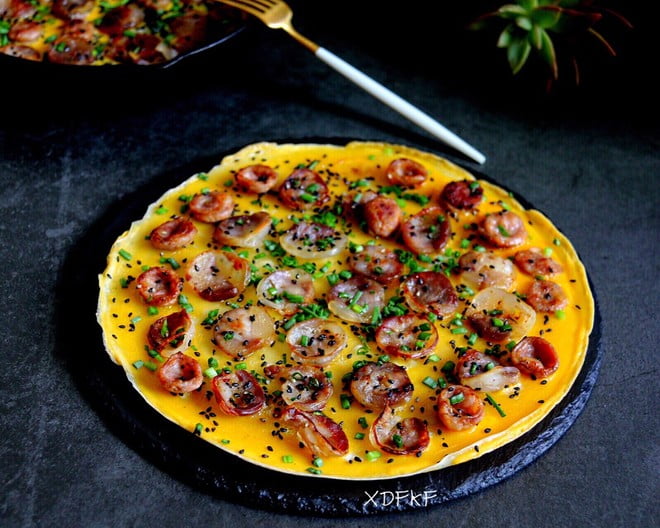 Ingredients: egg, flour (100g), sausage or salami, black sesame seeds, water, oil, scallion (1 stick)
Method:
Step 1: Mix the flour with water and salt to make a slightly thicker batter and set aside.
Step 2: Cut the sausage (or salami) into thin slices, beat the egg into liquid, and put a little oil in a non-stick pan.
Step 3: Warm over low heat, fry sausages (2 to 3 minutes) and set aside.
Step 4: Put an appropriate amount of oil in the pan and fry the pancakes as according to the first recipe.
Step 5: Pour the egg mixture onto the surface of the solidified batter on the frying pan, then add the fried sausage and fry on low heat.
Step 6: Finally sprinkle with appropriate amount of black sesame seeds and diced shallots. Enjoy your meal!
Remember you can have your pancakes with any type of meal: salad, rice porridge, boiled eggs or even toasts.
Want to know more about Chinese language and culture? Maayot is here to help. Check out some of our articles below: