Learning Chinese doesn't require hours of daily studying. You don't need to go abroad or study the language full-time. Only consistency.
You can study a few minutes every day and make massive progress. All you need is to keep it regular.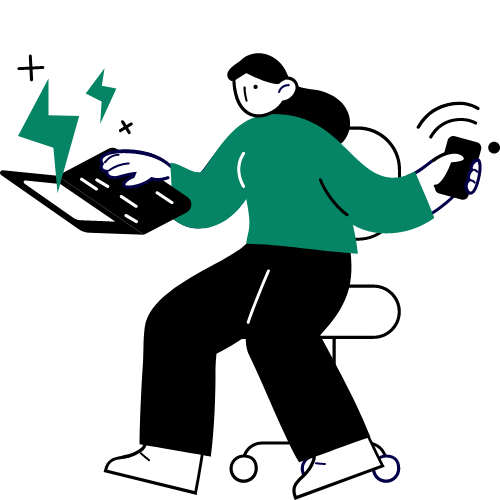 As many studies have shown, learning at regular intervals increases knowledge retention.
To help with that, we've put together a no-bullsh*t guide to learn Chinese in 5 minutes a day. This guide is the result of years of teaching the language across many resources.
We've broken it down between beginner & intermediate/advanced learners. Your level may change what is the most appropriate resource.
Daily Schedule & Guide
Monday: 5min character learning
Tuesday: 5min reading
Wednesday: 5min character revision
Thursday: 5min listening
Friday: 5min speaking
Saturday: 5min writing
Sunday: 5min character revision
That's it. If you follow it, you'll see great results in your Chinese learning.
You can save this schedule to your calendar as reminders with this link.
Mon/Wed/Sun 5min character learning
Chinese characters are the basis of Chinese learning. There is no way around them.
Spaced-repetition is the best way to study them. They're spaced so you see them when you're about to forget them. If you haven't, give it a try.
Beginner: Memrise
Go through the HSK 1 course, it includes the 150 characters that HanBan sees as essential. HanBan is the main Chinese language body, so you can trust them.
Memrise uses examples, audio and images to help you remember the words, which is great as a start.
Intermediate/Advanced: Anki
Download Anki on your phone or computer, it's well worth it. Once again, we recommend you use the HSK decks for study.
It allows for much for customisation and 'freedom' than Memrise. We'll likely cover best-practices in another post.
Other resources: LingoDeer, Drops, StudyStack
Tue 5min reading
Beginner/Intermediate/Advanced: maayot
Register for the best Chinese graded reader. You'll be getting a story in Mandarin Chinese in your email inbox every day tailored to your level.
You can read it in a few minutes. It's a great way to see characters in context.
If you have some time left, each story also comes with a recording. There's no harm in you listening to it too.
Thu 5min listening
Beginner/Intermediate/Advanced: CSLPod
This one is simple. It has over 1600+ free Chinese recordings.
Pick your level and listen. Don't listen without paying attention though. Listen to each sentence, making sure you understand it 100%.
If anything is unclear, you can use Pleco or your favorite dictionary to identify the word.
If you subscribe to maayot, you can otherwise listen to that recording.
Other resources: ChinesePod (paid), Slow Chinese, Popup Chinese
Fri 5min speaking
Beginner/Intermediate/Advanced: Tandem

You'll need someone to talk to; it's not enough to repeat sentences on your own. Why? Because you'll need someone to correct your pronunciation.

As you know, tones in Mandarin are critical. Get one wrong, and your sentence loses its meaning.

With a language exchange app like Tandem, you can find other language learners and talk away!

Focus on finding someone that will correct as many of your mistakes as possible. Help them too with the same.
Other resources: iTalki, HelloTalk
Sat 5min writing
for handwriting
Beginner/Intermediate/Advanced: Skritter

If you're looking to know how to handwrite characters, Skritter is a safe choice.

Like most apps, they have characters packs to ensure studies are for your level. It's well done, and well worth the subscription price.
for writing
Beginner/Intermediate/Advanced: maayot

Reply to the daily open-ended question and get a correction from our teachers.

It's the best way to make sure your grammar is on point. It's only available on the premium plan.
What if I have more time?
The resources we have listed are well adapted for longer study periods. You could do 30mn or more in the same session with each of them.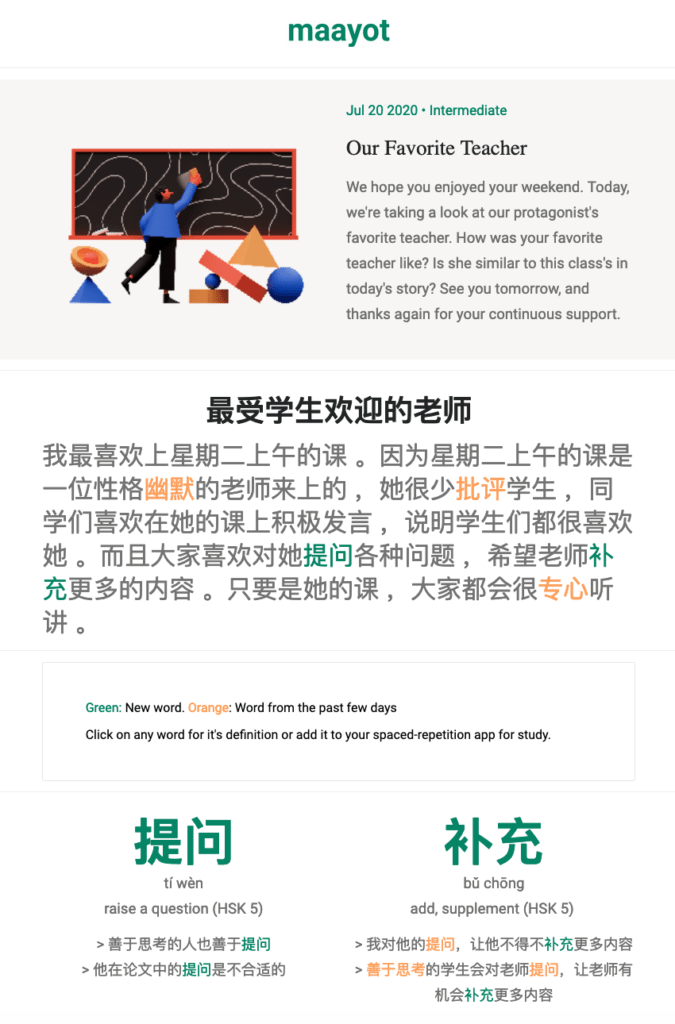 maayot is a daily Chinese reader. You receive on a daily basis a text in Mandarin Chinese based on your level.
How does it work?
?️ You'll get a Chinese story once a day. It's tailored to your level. Click on any character you don't know to see it's definition or add it to your spaced-repetition app.
? Two new words that you may not have studied yet from higher levels.
? Practice your listen with a daily native high-quality recording of the day's story.
? Test your understanding of the text with a quick and simple quiz. If you read it with attention, it should be rather simple.
✏️ Practice your writing skills by answering to the day's open-ended question.
You can register now to receive stories right away.