If you have started to learn Chinese and want to improve the reading and writing abilities effectively, it is important to read Chinese stories. However, the problem is that it is not always easy to find suitable reading materials, which can guide you through learning new Chinese words, sentences and grammars etc. step by step. The solution is you need to find the graded readers that are written based on your level and focus on providing you with understandable information, interesting topics that enable you to gradually improve your level and get more decent knowledge about China. In this article, we are going to find out what is the graded readers and how we can find good Chinese graded reading material.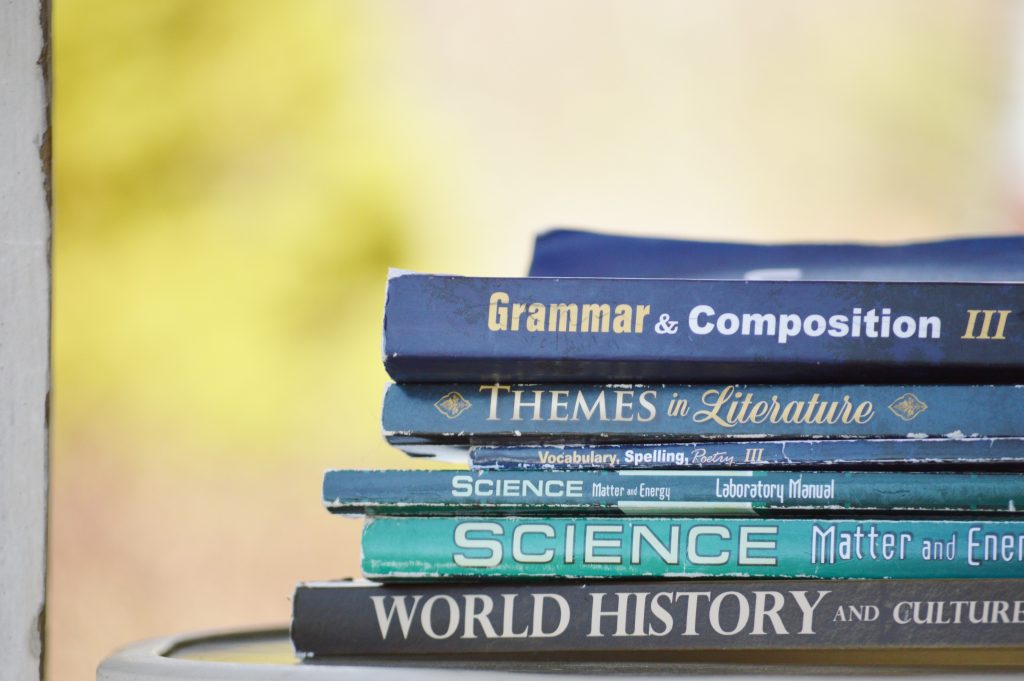 1. The development of graded readers
In the 1920s, a variety of different graded reading systems appeared in the West countries. In the 1930s, graded reading books began to have well defined grading standards. Most countries will use graded readers as a framework for children's extracurricular reading. The advantage of graded readers is that there is a gradual process of age and level, which can accumulate vocabulary and increase the expansion of knowledge. Because of the attempts of Western countries, Hong Kong and Taiwan began to develop graded readers more than a decade ago. After entering the 21st century, graded readers have gradually entered the vision of China's publishing industry and some experts and scholars. Some Chinese graded reading institutions and experts have emerged, and some research results have been achieved in different fields and different areas.
Compared with English graded reading materials, Chinese sentence structure is very flexible, each word in a sentence has a meaning, and the same word may have different meanings in different context. Therefore, the focus of early Chinese graded readers is not sentence patterns, but the accumulation of vocabulary. In the early days, many graded reading materials on the market were designed for children whose mother language is Chinese. Most of the cognition of graded reading materials stayed at the stage of "reading by grade" and "reading by age".
With Chinese, developing graded readers for second language learner is not that easy for several reasons. First, picking up random book for children is not a good idea. It will likely contain lots of words you have never heard and probably don't need to learn. For a second-language learner is not the same as a kid who can already speak fluently and is beginning to explore the written language! Second, there used to be a dearth of reading material targeted directly at second language learners.
Since the Hanban of China launched the "HSK Exam Syllabus", graded reading materials for non-native Chinese learners have been gradually introduced in the market. Such as "Chinese Breeze", "Reading China ", "Developing Chinese", "Boya Chinese", etc. Among them, some are more of text books suitable for learning in class, and some are also suitable for self-studying.
2. Benefits of reading graded reading material
According to the reading difficulty of the text, it matches the reader's level to ensure that the reader can read the most suitable text.
Make reading more fun, let readers read what they can understand, and get a sense of accomplishment.
Reading step by step, while accumulating vocabulary, learn more about the meaning of Chinese characters in different contexts
Strengthen reading ability and deepen the understanding of Chinese sentence expressions.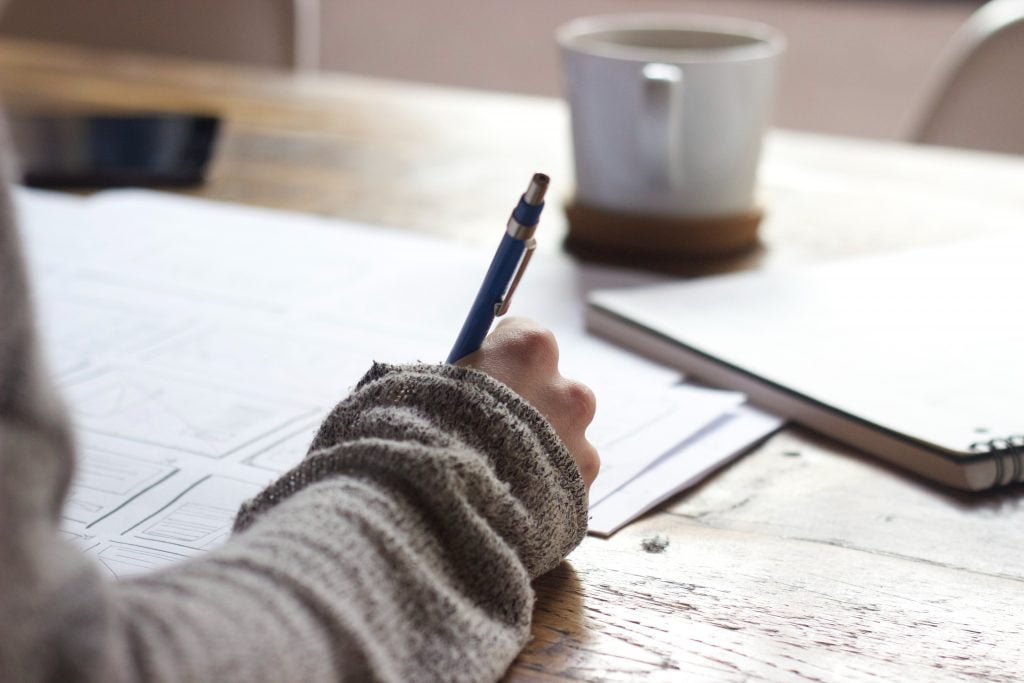 3. How to define good Chinese readers
Good Chinese readers would be well designed to make you feeling like there is actually a teacher besides you teaching Chinese, including new words you may not know, and questions to discuss the story with. However, not all Chinese readers are equal, so we have listed several criteria for defining good Chinese readers for the second language learners.

The content is accurate; the system behind it is complete and scientific.

There is a clear degree of distinction, which is not only based on the amount of word recognition, but also includes semantic difficulty, artistic complexity, etc., not simply based on age.

The evaluation is simple, and it is best for readers to evaluate whether they need to be upgraded.

Each reading is equipped with a brief guide for easy selection. If there are questions and exercises at the end of the chapter, it would really help reinforce what was learnt in these short stories – that would be an added bonus.

Readings cover a wide range, not limited to a single field, including current affairs news, daily conversation, Chinese culture, history, etc. These stories must be well written. That's core – if stories aren't interesting, it defeats the whole purpose of learning Chinese with them – you'll forget about what you've read easily!

Audio stories with various versions. There is a slow voice recording version for reference.

Compiled in accordance with the "HSK Exam Syllabus", it has a high coverage of vocabulary, grammar, and topics in the outline.

Scientific arrangement, adopting a spiral arrangement method, the difficulty of the story gradually increases, and the repetition frequency of new words and key words is high.

Rich learning forms. Learners can log in to the official website via mobile phones or computers, listen to recordings online, follow stories, and use the vocabulary learning system to learn new words.

Too difficult and too easy will lose interest in reading. The most ideal state is that you can understand more than 90% of the words you read without help.

Well annotated. These stories must be well annotated with explanations of words.
With that in mind, you might be interested to know that there are Chinese graded readers in the marketplace that can meet the criteria.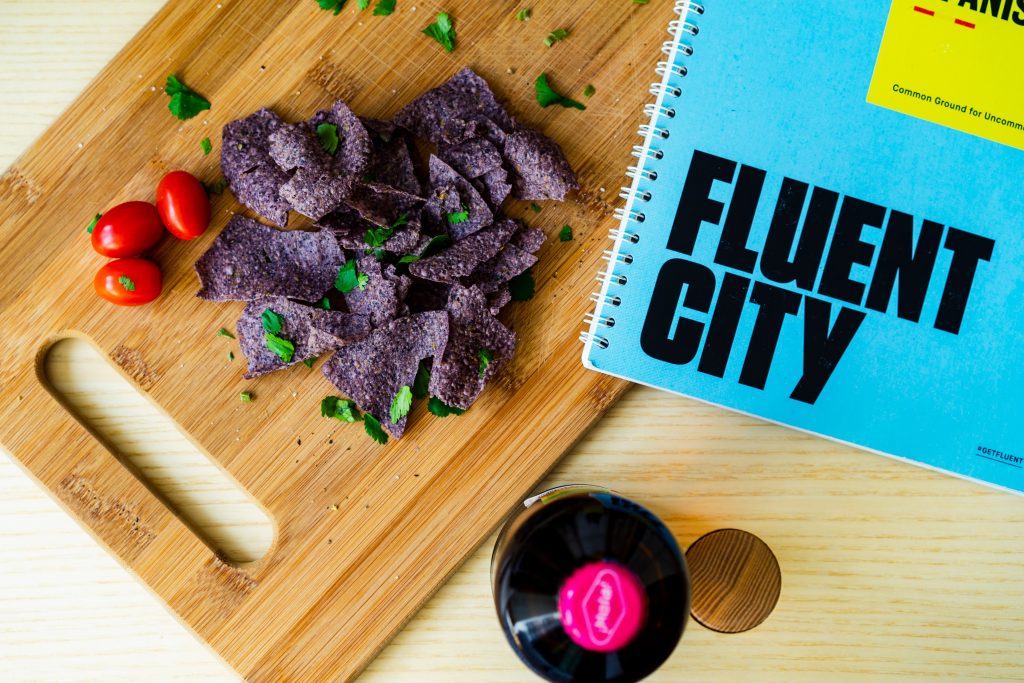 4. Where you can get relevant reading material
(1)Maayot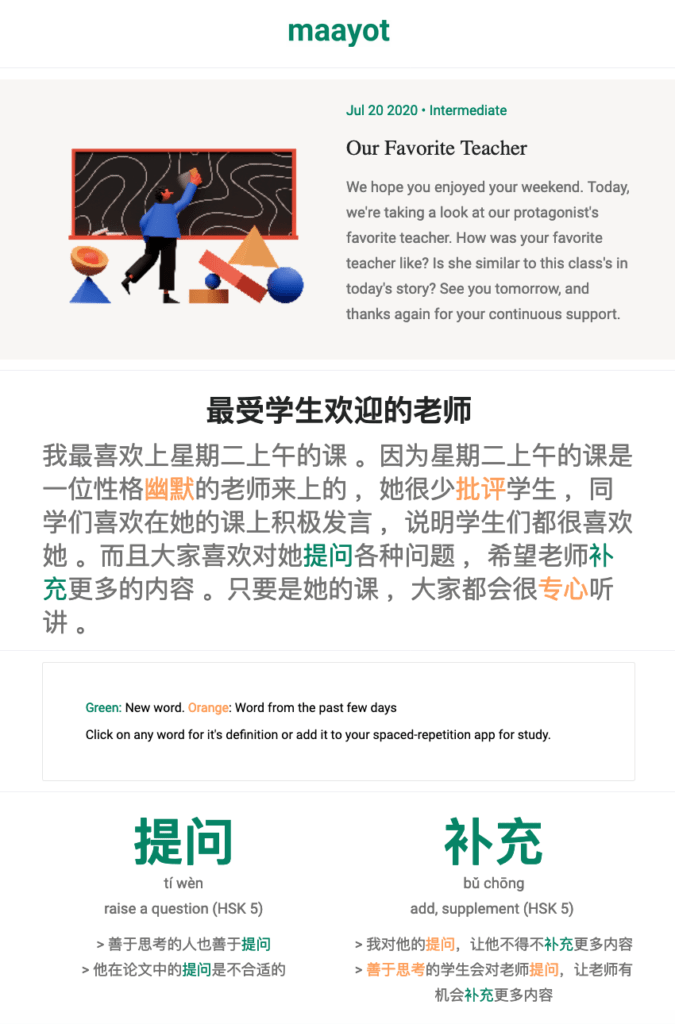 Maayot is a set of online graded learning tools specially created for Chinese learners. It is tailor-made for foreign Chinese learners. It adopts scientific graded reading learning philosophy and aims to effectively improve the Chinese reading ability of Chinese learners, develop skills such as "listening", "speaking", "reading" and "writing". The reading difficulty of the text is measured according to the HSK grading system. The story content is divided into three levels: beginner, intermediate and advanced levels, which can be freely selected by learners of different levels. The content includes stories about Chinese people's daily life, cultures, traditions and modernity stories, allowing readers to understand Chinese social traditions, habits, historical legends and current news from all angles. Learners can fully enjoy the reading, listening. Each story features concise and short sentences as well as commonly used words for easy reading. Pinyin is added to the full text, English notes or sample sentences for difficult words and sentences are also provided. The story has an English summary at the beginning of the story and questions on reading comprehension at the end.
Register at maayot.com
(2)"Developing Chinese"(2nd Edition)
Published by Beijing Language and Culture University Press, with a total of 28 volumes and 34 books and this is the one most used text book by universities now. There are complete sets of books for listening, speaking and reading. The book was published in 2012, the topic is relatively new, the text is readable, short and interesting, and the cultural content is cleverly integrated. It is suitable for students from all starting points to choose the corresponding textbook study according to their own level.
(3)"Reading China"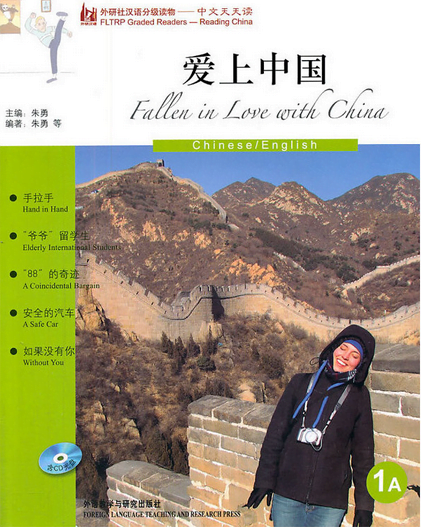 "Reading China" is suitable for Chinese learners of all levels. It is a set of graded Chinese reading materials that can be used as extracurricular reading materials as well as reading materials. The complete set of reading materials includes annotated versions in English, Japanese, and Korean. The whole series is divided into five levels according to language difficulty.
(4)"Chinese Breeze"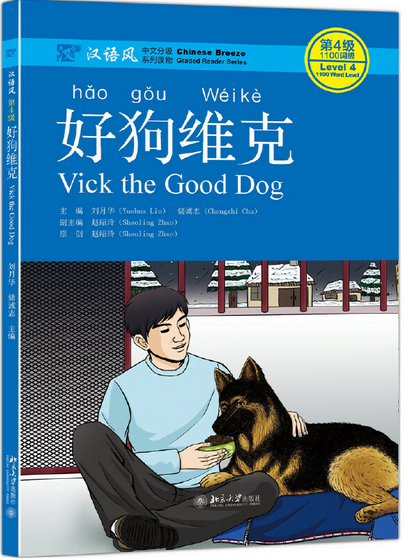 The difficulty of this set of books is divided into 8 levels, each level has 6-8 volumes, and each volume is 8,000-30,000 words. The target audience is Chinese learners from the elementary level (about 300 common words) to advanced level (mastering 3,000-4,500 common words) and middle school students (including AP students) and other Chinese learners. The stories are well written, interested to read and has literary value. In addition, the subject is wide, learners can choose according to their hobbies.
That's all about the background, benefits, and recommended books and tools of graded readers. There are a lot of learning materials about Chinese graded lessons in the market. You could choose the suitable one according to your learning purpose, interest and level. We believe that even simple words can create stories with meaningful content. We hope that every learner can find a learning tool that is suitable and can truly improve their Chinese.
With maayot, receive a daily engaging story in Mandarin Chinese based on your level.

How does it work?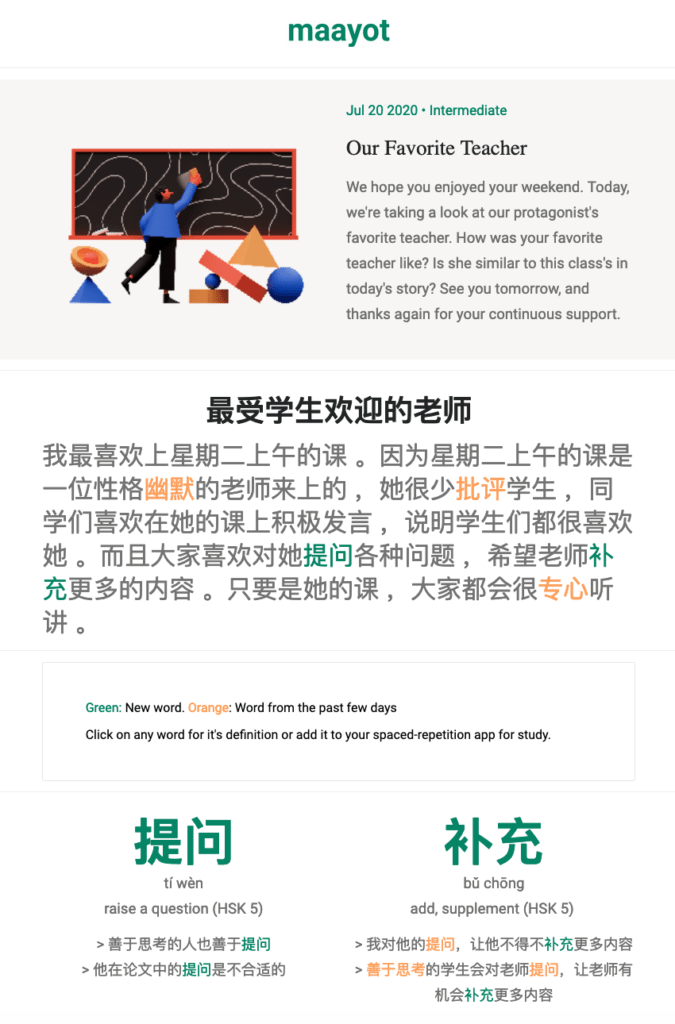 You'll get a Chinese story once a day. It's tailored to your level. Click on any character you don't know to see it's definition or add it to your spaced-repetition app.



Two new words that you may not have studied yet from higher levels.



Practice your listen with a daily native high-quality recording of the day's story.



Test your understanding of the text with a quick and simple quiz. If you read it with attention, it should be rather simple.



Practice your writing skills by answering to the day's open-ended question.

You can register now to receive stories right away.